The Lilla Jewel Award—named in honor of artist, radical feminist, and suffragist Lilla Jewel— was created to address the inequities that women and artists of marginalized genders experience by resourcing and amplifying Oregon-based artists who advance a social change message through their work. Created nearly 25 years ago, the Lilla Jewel Awards have funded dozens of poets, choreographers, singers, painters, photographers, filmmakers, writers, and other artists embedded in our social justice movements.
This year, we are excited to announce our 2022 award winners: writer and DJ Emilly Prado and multidisciplinary artist May Maylisa Cat!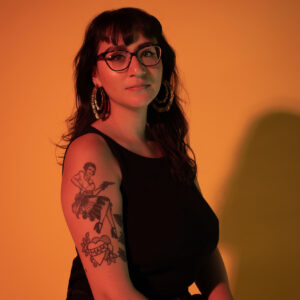 Emilly Prado is a writer, DJ, and community organizer based in Portland, Oregon. Her debut essay collection, Funeral for Flaca, has been called, "Utterly vulnerable, bold, and unique," by Ms. Magazine and is a winner of the 2022 Pacific Northwest Book Award.
Emilly is a Blackburn Fellow and current MFA Candidate at Randolph College, and co-founder of the BIPOC-centered arts non-profit, Portland in Color. She also moonlights as DJ Mami Miami with Noche Libre, the Latinx DJ collective she co-founded in 2017.
Learn more about Emilly through her website or on social media @emillygprado.
May Maylisa Cat is a multidisciplinary artist whose work spans new media, performance art, sculpture, and installation. She grew up in Chicago, IL and graduated from Cooper Union School of Art in New York, NY. 
Her projects have received support from the Franklin Furnace Fund; Oregon Arts Commission; Open Signal New Media Fellowship; and Regional Arts and Culture Council of Portland, OR. She is a recipient of the 2022 Arts Commission Individual Artist Fellowship. 
May has attended residencies at Chautauqua Visual Arts, Santa Fe Art Institute, Fountainhead Arts, Pilchuck Glass School, Wassaic Project, Caldera Arts, and many others. She has spoken as a guest lecturer for Carnegie Mellon University School of Fine Art in Pittsburgh, PA; Yale School of Art in New Haven, CT; Cooper Union in New York, NY; and as a teaching artist for Caldera Arts in Sisters, OR.