I recently ran across a social media post from a civic engagement organization inviting folks to a forum on houslessness solutions. What struck me the most? The complete absence of actual houseless folks in the panel. 
Sure, politicians, policy wonks, and academics may all have interesting things to say about houselessness—they'll likely talk about numbers and research and reports, but I am willing to bet that not a single one of them has ever experienced houselessness themselves. Or know someone who does. 
"So how can they talk about solutions?", I thought at that moment. "How can they possibly know—really know—what actually works or doesn't for the very people experiencing houselessness?" 
The post also made me think of whose words and knowledge we value as a society. Why do we pay more attention and attribute more value to the words of PhDs and elected officials than to the stories and lessons shared by folks on the street, folks who know first-hand what's what?
One of the values Seeding Justice holds most dear is Community—we are the people we serve and we are guided, first and foremost, by the communities most impacted by injustice. That means we listen to and value, above all, the words, narratives, histories, and stories coming from those who have been systemically and strategically excluded from conversations about "solutions," the very people that hold the key to finding them. 
Today, it is my great pleasure to introduce to you the social, racial, gender, disability, economic, and environmental justice warriors that are receiving General Fund grants this fall. (And yes, I say warriors because they literally fight every single day to make our communities better.) 
They may be small and emerging, but make no mistake: they are fierce, they are determined, and they get shit done. I hope you are as inspired by them as all of us are, and that you not only pay attention to their work, but also support them generously this giving season. 
In love and justice,
Violeta Rubiani
Director of Programs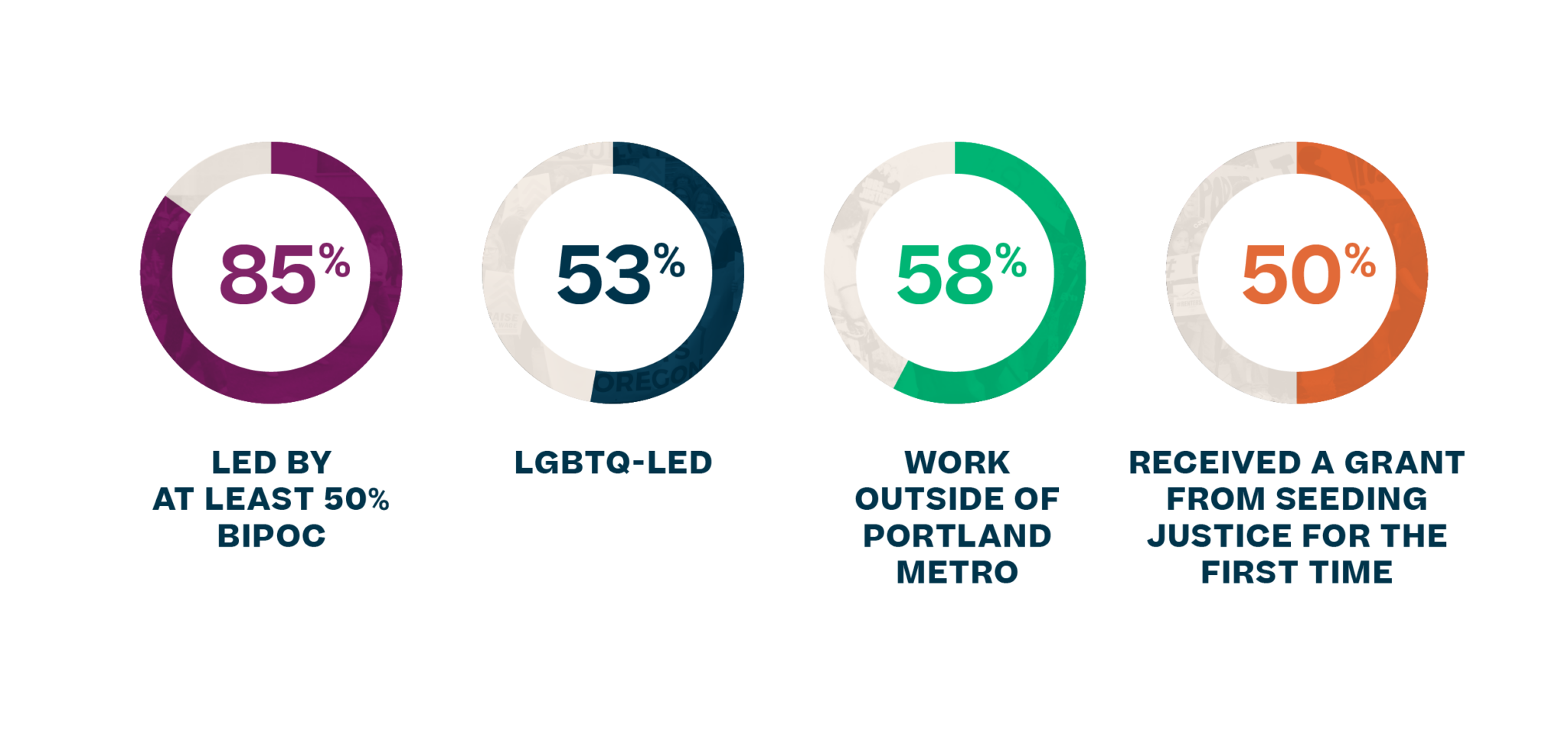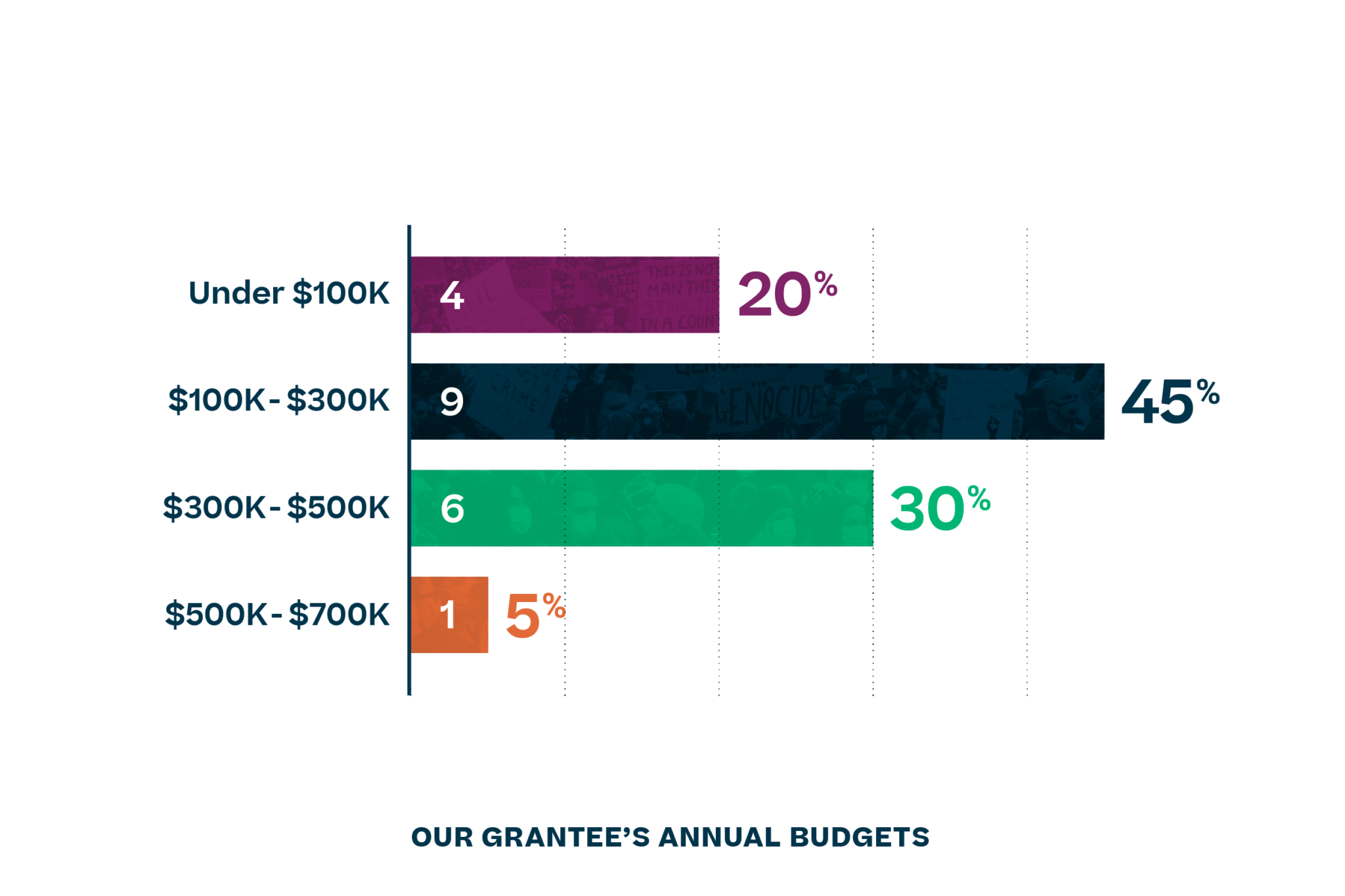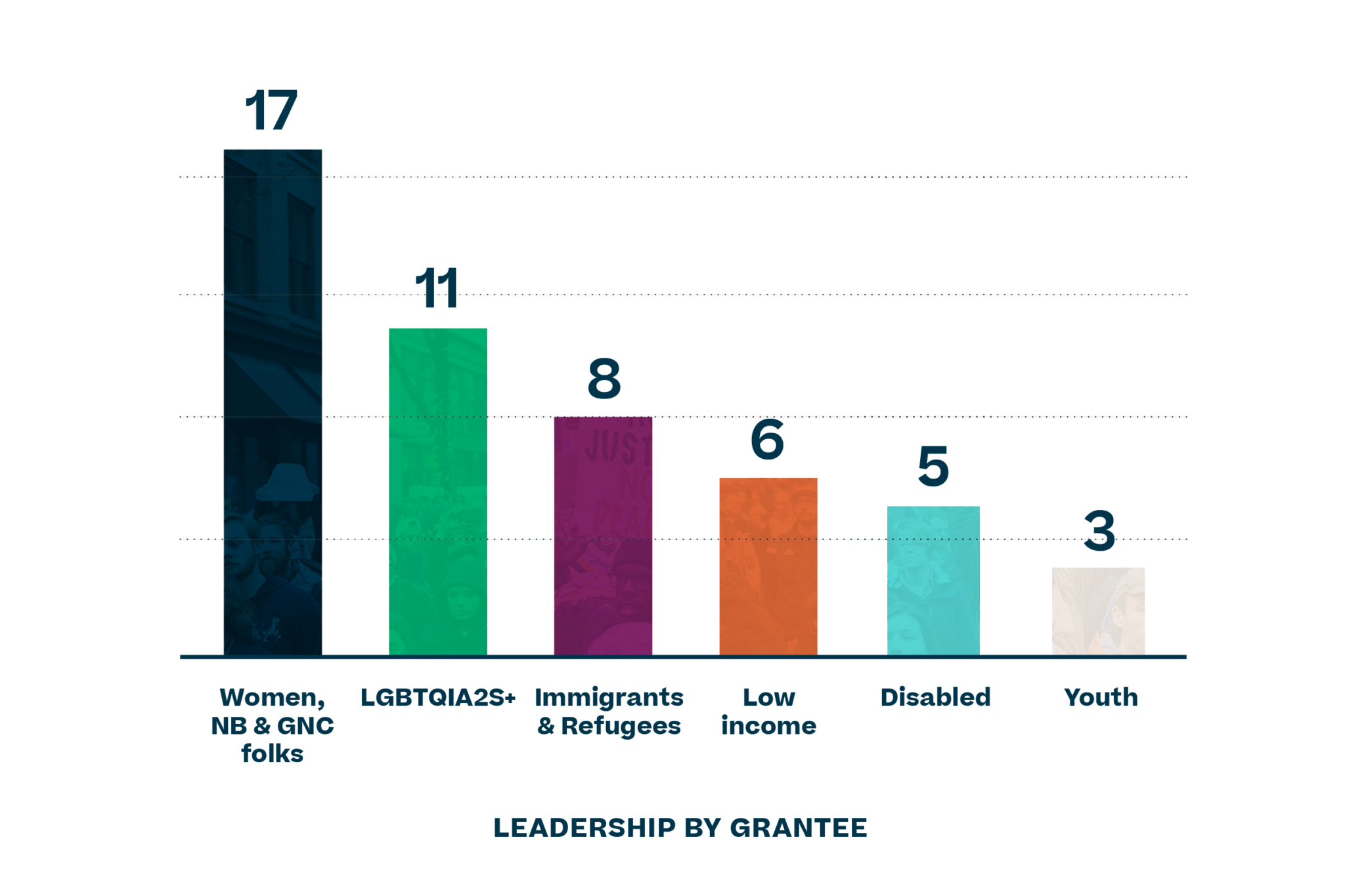 Organization

Mission/Purpose

Amount 

Eugene/Statewide

Grantmaker grant in honor of Ana Molina

$5,000

Black & Beyond the Binary Collective*

Portland

Black & Beyond the Binary Collective is dedicated to advocacy and healing for transgender and gender-variant Oregonians who are Black and have lived experiences as a member of the African diaspora.

$13,000

Community Alliance of Lane County (CALC)

Eugene

CALC's mission: educate and organize for racial, social and economic justice and peace. Since 1966, CALC has been a clearinghouse and organizing nexus. We continually reinvent ourselves, asking: "Where are we needed to advance social justice?" Recognizing that we live in a structurally racist, white supremacist society, we know change won't happen without BIPOC leadership. CALC organizers and activists are torchbearers, creating ways for community members to participate in social justice struggles.

$15,000

Portland/Statewide

Critical Resistance Portland (CR PDX) is a chapter of Critical Resistance, a national grassroots organization that has worked since 1998 to dismantle the structures, policies, and practices of the prison industrial complex (PIC); change systems of oppression that the PIC is upheld by and reproduces; and build alternatives to create truly safe, healthy communities. 

$8,000

Walterville/Statewide

Friends of Family Farmers (FoFF) is the voice for Oregon family farmers who responsibly steward their land and feed our communities. Our vision is an Oregon food system of diverse, thriving, socially and ecologically responsible family farms. 

$10,000

Southern Oregon Black Leaders, Activists & Community Coalition (SOBLACC)

Ashland

SOBLACC is bringing political power to Black folks in Southern Oregon.

$15,000

Portland/Statewide

NOM's mission is to build a politically and civically powerful collective of people to advance racial and electoral justice across Oregon. 

$15,000

Salem/Statewide

ODC exists to organize young undocumented individuals and allies accross Oregon. To create a more inclusive, equitable, and connected community by raising awareness about the undocumented experience and by participating in advocacy and direct action.

$13,000

Portland/Statewide

Oregon Voice is a network of 20+ community-centered organizations in Oregon that are invested in movement and power building on issues that most impact Black, Indigenous, and People of Color. We develop politically aware organizers in rural and urban areas, by providing leadership and civic capacity-building opportunities, and by forming strong partnerships and coalitions across Oregon.

$15,000

Portland

Outgrowing Hunger's mission is to nurture the growth of people, places, and whole communities toward their highest potentials of abundance, equity, and human & natural well-being.

 

We are a collaborative, grassroots organization centering the needs of immigrant, refugee, and historically marginalized communities. We act responsively as a supporting partner to participant-led initiatives which undo the effects of oppression and discrimination through urban agriculture, access to food-producing land, and farm business development. 

$12,000

Portland/Statewide

PEWM (Proud of Everything We Make), a print and digital magazine, has a vision to put an end to the illusion of inclusion, which prevents systemic change from happening. Black, Indigenous, Queer, Non-Binary, and Working-Class perspectives are amplified in our stories to combat the under- and misrepresentation of these backgrounds in mass media. PEWM is a movement in celebration of stories and experiences, with a mission of creating a shared connection where folx can address their trauma through narratives, actions, and art.

$15,000

Portland Harbor Community Coalition (PHCC)

Portland

Founded in 2012, the Portland Harbor Community Coalition (PHCC) is a collective of groups and individuals elevating the most-impacted communities, historically or currently, in the decades-long cleanup of the ten-mile Willamette River "Superfund" site in what is now known as the Portland Harbor. 

$15,000

Portland/Statewide

Pueblo Unido provides legal navigation services to help people facing detention and deportation obtain legal aid and build the strongest possible case against removal. Our services enable clients to overcome technological, literacy, linguistic, and financial barriers to legal information, representation, and supporting evidence. Our resources and support empowers clients to become agents in their own defense. We envision a United States of America with libertad y justicia para todxs.

$13,000

Medford

The Southern Oregon Racial Equity Liaison (SOREL) is a project that will serve as an intermediary between the Black community and local government services in Jackson County, Oregon. The Chief Liaison will discharge these duties with the oversight of six community oversight committees. 

$15,000

Portland

UPRISE was founded out of frustrations with trying to spark social change within organizations not designed for us: BIPOC, Queer and/or Trans, Poor, and Sick/Disabled. We co-created UPRISE dedicated to demystifying social change and supporting self-determination. UPRISE's mission is to open spaces and provide support for targeted community members to engage in social uplift within our own communities. 

$13,000

Portland

TischPDX works to bolster the leadership and visions of Jews who have been historically marginalized in Jewish communal life: young Jews, Jews who are queer and trans; Black, Indigenous, People of Color (BIPOC); and Sephardi and Mizrachi Jews and those raised outside Jewish community. Now in its third year, TischPDX operates the Unaffiliated Jewish Leadership Incubator to serve Jews in the Portland area with the tools and resources they need to see themselves as leaders in the Jewish community, establishing a new model for Jewish engagement. 

$15,000

Voz Workers' Rights Education Project*

Portland

Voz is a worker-led organization that empowers diverse day laborers and immigrants to improve their working conditions and protect civil rights through leadership development, organizing, education and economic opportunity.

 

This grant is specifically for their Racial and Gender Justice Initiative.

$13,000

Portland

Washington County Ignite is made up of individuals and groups active in Washington County grounded in our shared progressive values. We are dedicated to building power in our community of Black, Indigenous, and People of Color, LGBTQ+, and young people residing in the most rapidly diversifying county in Oregon. We aim to transform Washington County through organizing and driving critical civic engagement to create a leadership pipeline of passionate and racially diverse community leaders who can work together. Our ultimate goal is for the most impacted members of the county to hold more power and to be directly engaged in decision making processes.

$15,000

Portland

Wild Diversity helps to create a personal connection to the outdoors for Black, Indigenous, all People of Color (BIPOC) & the LGBTQ+ communities, through outdoor adventures and education. We build unshakeable foundations of support and safety while creating a welcoming space for individuals within these communities to have access to outdoor adventures, conservation, and all connections with wild spaces. We decolonize outdoor spaces through diverse leadership development training, our mindful curriculum and through our community workshops.

$15,000

Total Granted

$250,000
*Multi-year grant